Resources for Patients and Families h1 >
The Brittle Bone Disorders Consortium (BBDC) and its partner, the Osteogenesis Imperfecta (OI) Foundation, regularly host webinars for the patient community. They also offer a variety of other informational resources targeted at patients and families. Please click on the blue headings below to reveal additional resources, and see the additional list at the bottom of the page.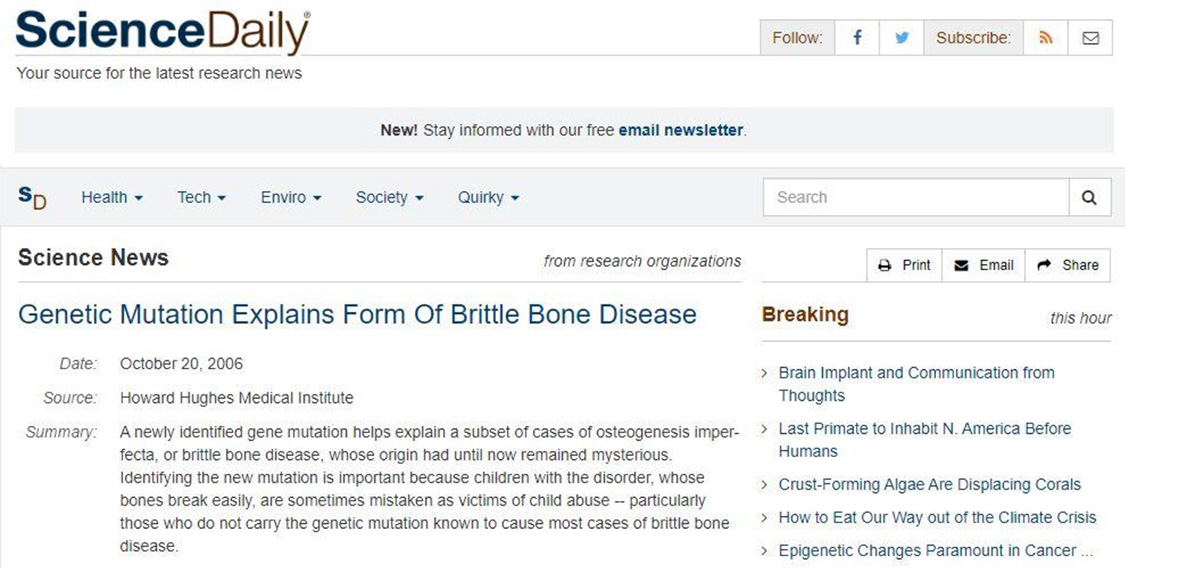 Howard Hughes Medical Institute: Genetic Mutation Explains Form of Brittle Bone Disorders (October 20, 2006)
Researchers discover cartilage-associated protein (CRTAP), a gene mutation that can affect bone formation, resulting in a subset of cases of osteogenesis imperfecta.
Learn More
Related Organizations h2 >
American Academy of Orthopaedic Surgeons
American Society for Bone and Mineral Research
National Coalition for Osteoporosis and Related Bone Disease: National Action Plan for Bone Health
National Human Genome Research Institute
National Osteoporosis Foundation
National Institutes of Health
The NIH Osteoporosis and Related Bone Diseases~National Resource Center
The OI Federation of Europe (OIFE)
Shriners Hospital for Children Directory