7707: Use of clear aligners for the treatment of dental malocclusion in individuals with Osteogenesis Imperfecta
About this Study
Misalignment of teeth may interfere with oral hygiene, gum health, jaw function, opening of the jaw, chewing, breathing, and speech. It can also affect the shape of your face, mouth and overall quality of life. There is very little information on the appropriate treatment for teeth misalignment in OI.
The purpose of this study is to determine if it is safe to use Invisalign clear aligners in correcting the misalignment of teeth in people with OI. Clear aligners are transparent plastic trays that are designed to fit over your teeth. With each new tray, teeth are moved a little at a time until they reach the desired position. We plan to have approximately 57 people take part in this study.
If you take part in this study, you will be asked to come to a participating site for up toa total of 15 study visits over a course of 2 years and 4 months (or 28 months). People that agree to be in the study will have the following tests done at the study visits: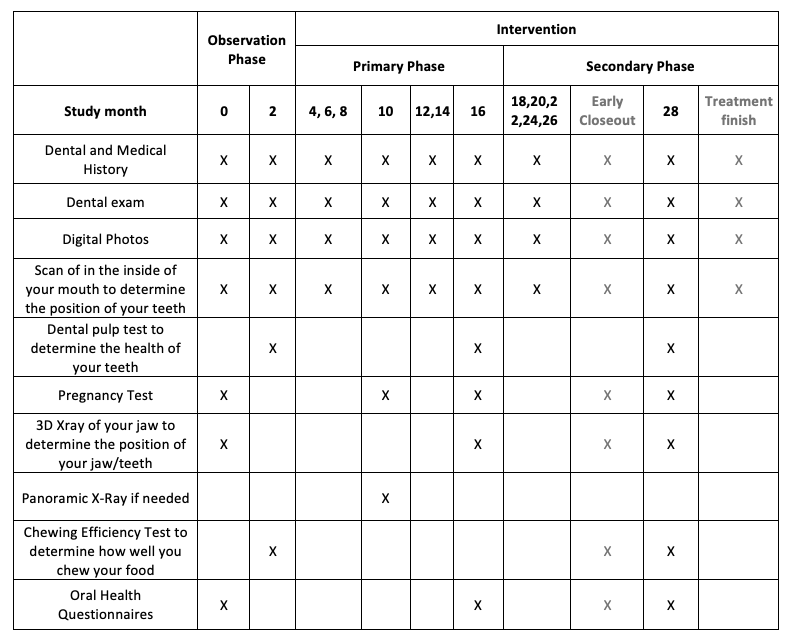 You may be eligible to participate if you:
Are between ages 12 – 40
Have a clinical diagnosis of OI
How to participate:
We greatly appreciate your interest in this study and in advancing the understanding of Osteogenesis Imperfecta.
In order to participate, you must contact the study coordinator of any of the participating institutions by phone or by e-mail. Please use the information to the right to inquire about participation.
Keywords
Osteogenesis Imperfecta